If you've ever wanted a command line tool to view updated network information then we would suggest you check out the wonderful iftop server monitor. iftop is an excellent tool if you need to view connections to and from your system, quickly. There are many other popular utilities you can use to find this information out, however we like how quick you can pull up iftop and view what you need.
You can see many different things with iftop, from viewing bandwidth usage to a specific interface, to finding out which port is sending out the most traffic. We believe this program can suit everyone's needs.
Installing iftop on CentOS 6:
Start by making sure it's not already installed! Just type this command:
root@urpad-vps [~]$ iftop
If you receive an error, usually "Command not found", dont' worry. Just follow the rest of the tutorial.
Add the EPEL repository if you haven't already done so, from our previous tutorials. To do this type:
Retrieving http://www.mirrorservice.org/sites/dl.fedoraproject.org/pub/epel/6/i386/epel-release-6-8.noarch.rpm
Preparing...       ########################################### [100%]
    1:epel-release ########################################### [100%]
If you don't get a similar output to the one above then you've most likely got some issues with either "yum" or "rpm". If so then just comment with the error you received and we'll help you resolve it.
To install iftop go ahead and type the following into your command line:
yum -y install iftop
You'll see a lot of text go through the console and at the end it should say "successful". To execute the program just type "iftop" and it'll open something that looks similar to this image below.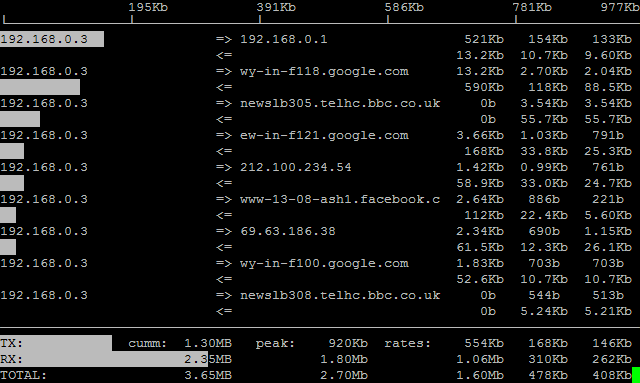 If you know of any other great tools that you would like to share, then please post them in the comments below!