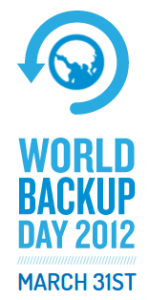 Today – March 31, 2012 – is World Backup Day. Taking backups of your computer is critical and important, because there is no such thing as a "crash-proof" hard drive. All hard drives will crash – its not a matter of "if" the drives will crash, its a matter of when your drives will crash. World Backup Day was designed to remind users to backup their important files before its too late. Your data is precious and priceless, and its important to take action to backup your important files immediately before its too late, as hard drive failures can come when you least expect them to.
So Much Data!
As we live an increasingly digital life, we can't afford to lose the huge and valuable amount of data that we create. We're well on track to make well over 1.8 zettabytes of data this year. That's almost 57 billion iPads or 210 billion movies worth! Think about all the precious baby videos, financial documents, love letters, business emails and wedding photos that you'd lose if it isn't backed up.
Why Backups Matter
When a hard drive fails and the data isn't backed up, it's gone. And it's not a question of if your drive will fail, it's when. Remember, every single computer component will fail eventually.
The hard drive is the component in your computer that has the highest chance of breaking unexpectedly. A hard drive consists of a head unit hovering over a special disc that spins 7,500 times a minute! One little bump and that head could crash into the spinning disk. And the crash itself isn't what causes the most damage. It's the loss of the data on that drive. If any other computer component fails, usually a new part can be switched out and the computer will be exactly the same as before. On the other hand when your hard drive crashes, you won't be able to get your data back (unless you have an massive amount of money to spend on data recovery).
Backing up is really simple once you've set up the backup process. There are a number of different methods depending on how you want to back up, and how safe you want to keep it. You can even set up multiple backups to better protect your files. It's just a matter of taking the first step of recognizing the value of your data. A backup isn't just an external hard drive, it's a plan toautomatically create multiple copies of your data.
How Often Should You Backup Your Data?
A final point – once a year is NOT frequent enough for backing up data. World Backup Day was created to spread awareness and to get those who have never backed up to understand how important it is to keep your data safe. Once you learn how easy it is, you'll be able to backup your life automatically!
How to Create Your Own Backups
There are many ways to go about backing up your computer, and its easier than you think!
It's a good idea to backup files regularly and in at least two separate places, just to be safe. It's also smart to have a local backup and offsite backup locations. Although finding that your computer and one of your backups unrecoverable at the same time is very, very, unlikely, it's not out of the question. Backing up is a sure-fire way to ensure the safety of your most precious digital data, whether it be photos, videos or important documents.
There are many different ways to back up the data most precious to you. We recommend backing up to an external hard drive, and/or by using an online backup service, such as Mozy and Carbonite.
The easiest and fastest method to backup your files is to use an external hard drive. You can pick one up from a computer store like BestBuy for under $150. To backup your files to an external hard drive, simply plug in the drive and drag/drop your files into the drive.
For those who do not have much files, and do not want to spend the extra money on an external drive, there are more cost efficient methods. You can use online backup services, such as Mozy and Carbonite. The downfall to this is it can slow down your internet while your files are backing up, and if you do not have a fast internet connection, it can take a very long time to complete backing up, depending on your internet speed and size of your files. Additionally, data recovery is also going to be slow as you are going to have to re-download your files. However, if you utilize a fast internet connection, this might be an ideal solution for you.
URPad.net handles data seriously, this is why URPad proudly takes daily backups of its shared & reseller hosting servers, along with utilizing RAID protected storage across all servers within our network. With RAID, should a hard drive fail, the other hard drive will continue to serve your sites/applications, and there will zero down time or data loss, just like nothing even happened.